Here Comes the Mystery Man
Several weeks ago I was listening to Radio Paradise when the station proprietor and chief musicologist, Bill Goldsmith, mentioned guitarist/singer/composer Dick Wagner in connection with Lou Reed. "That's interesting," I thought, thinking I might drop Bill a quick note about my Dick Wagner connection. One gets busy, though, and...

Fast-forward a week or so. Radio being what it isn't these days (no thanks to Clear Channel), I usually listen to NPR in the car and happened upon an immediately-identifiable voice—that of one Alice Cooper, progenitor of Kiss, Marilyn Manson, and the Rocky Horror Picture Show. Later, I remembered that Dick Wagner was Alice's guitarist and co-conspirator for many years.
(Not being an Alice fan back then, the interview was both fascinating and enlightening...did you know Alice personally knew the likes of Groucho Marx, who was a fan? I didn't either. Click the

[Listen]

button to hear the interview
.)

My first personal encounter with Wagner was at a concert at the Birmingham (MI) Palladium, where a group of us were chatting him and his band up during a break. We had also seen his group, The Frost, in addition to ("Terrible" Ted Nugent's) Amboy Dukes, the Psychedelic Stooges (read: Iggy Pop), Bob Seger, et al., appear as warm-up acts all over SE Michigan. (Seger even performed at our surprise high school assembly one afternoon, debuting his Beautiful Loser LP).
From Dick we quickly learned The Frost would soon be recording their second LP, Rock 'N' Roll Music, live at the Grande Ballroom, Detroit's Fillmore-equivalent run by Russ "Paul Is Dead" Gibb. In fact, most of the aforementioned bands, including the MC5 and an earlier group that featured the Eagles' Glenn Frey, were in semi-rotation as opening acts at the Grande.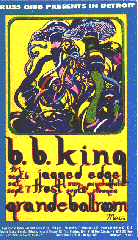 Shortly thereafter, I well remember pushing my way forward through the Grande's SRO crowd, then proceeding to scream my fool head off at the end of each song. It was a live recording, after all, and they had asked us to make it sound that way. Coming across these recordings not long ago, I swear I can still hear my distinctive "w-h-o-o-p"!
With minimal guidance from Grande artist Carl Lundgren (Gary Grimshaw was the other regular artist), it happens I also designed a postcard (now a collector's item going for $250 a copy), promoting an upcoming B.B. King appearance at the Grande, on which both Wagner's Frost and Iggy's Psychedelic Stooges are billed as opening acts. Imagine this handbill
appearing as a part of a regular B.B. King exhibit at the Rock 'N' Roll Hall of Fame & Museum (true story)!

In visting Wagner's well-done
website
, one learns he moved to Phoenix a couple of years ago and once again is teamed up with Alice Cooper preparing some new material. Hoping to see the "Mystery Man" again soon!